What is Amazon Brand Store? Amazon Brand Store is a service provided by Amazon. In this service, sellers can make their own stores on Amazon to increase recognition.
In other words, sellers pay Amazon and they create their own store page as an extension to Amazon itself. Amazon Brand Stores help big companies to verify themselves.
This also helps them to maintain their reputation and trust. Amazon has many individual sellers. Some of these sellers are not as efficient and dedicated as others.
1. What is Amazon Brand Store?
2. How does Amazon Brand Store look like?
3. Why should you create an Amazon Store?
4. How to create an Amazon Brand Store?
5. How to design your Amazon Brand Store?
6. Best Brand Stores on Amazon
7. 8 Trending Private Label Products Idea Help You Build Your own Amazon Brand
8. FAQs about Amazon Brand Stores
9. Final thoughts on Amazon Brand Stores
When sellers create an Amazon Brand Store, they usually show that they are verified and dedicated. In this document, we will learn the basics of Amazon Brand Stores and how you can create your own.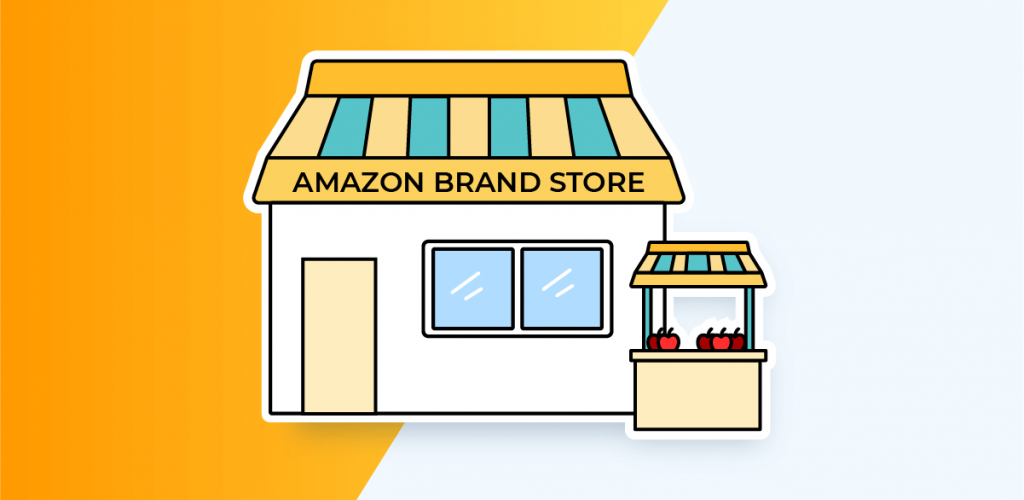 What is Amazon Brand Store?
First, we must understand what is Amazon Brand Store. Amazon.com itself is a big place. It can be difficult for buyers to identify good sellers from dishonest ones.
Sellers committed to trade also need the freedom to showcase their wares. When sellers use Amazon for their selling plans, they are limited.
They can't coordinate with others to showcase all of their products, nor are they free to use their marketing efforts.
When sellers use the Amazon Brand Store, they can create a page specifically for their business. The Amazon Brand Store can be defined as a page exclusive to the seller.
These pages can be excised through Amazon itself. When you visit Amazon, there is an option on the menu. There is a category labeled "Stores".
In this category you can see efficient sellers who have created their own mini-platforms to sell their products. Usually, big companies and quality sellers build their own Amazon branded stores so they can stand out.
How does Amazon Brand Store look like?
In general, the Amazon Brand Store looks like any other online store site. The difference is that you can access it through Amazon.
However, you can uniquely design your Amazon brand store by using templates and other custom methods.
These methods may include the way you display your products, the text, and the arrangement of the tiles, etc. There are different options that people can choose from to make their Amazon brand store unique.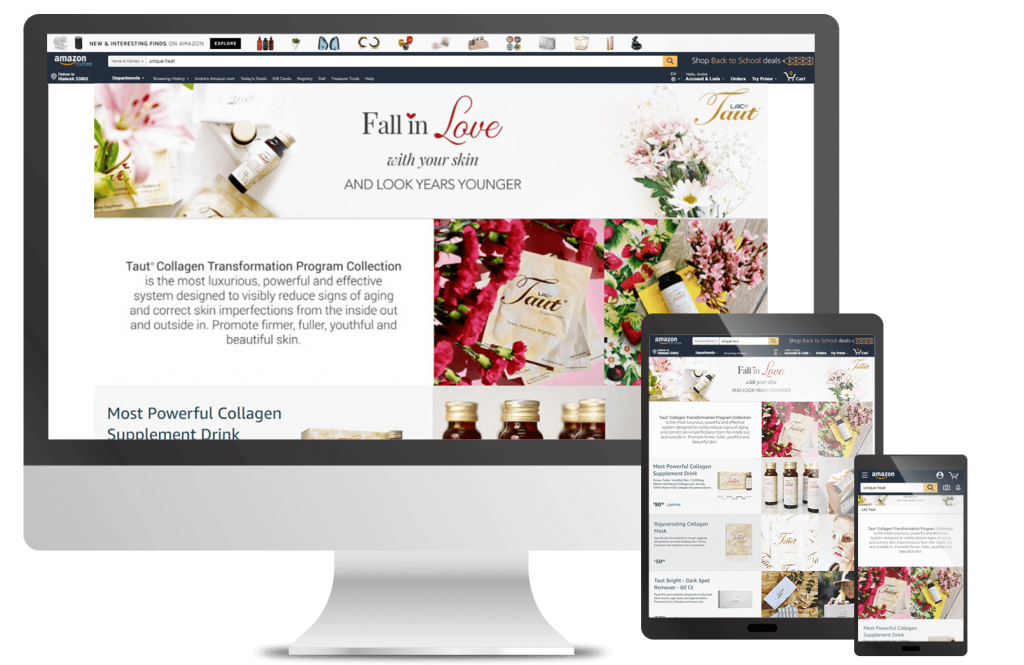 Why should you create an Amazon Store?
What exactly are the benefits of creating an Amazon branded store? There are definitely some benefits for Amazon brand store owners.
In fact, there are. If you open an Amazon branded store, you can get several benefits. Some of them are.
Stronger Amazon brand strategy and brand affinity
There are many benefits you can experience when you use an Amazon branded store. Amazon brand strategy is the method of creating a good reputation for your company.
When you create an Amazon brand store, you can create a reputation for being trustworthy and reliable. Brand affinity, on the other hand, refers to the relationship between your customers and your company.
Highlight the unique selling points of your products with rich content
With the Amazon Brand Store, you have the option to showcase your content as you wish. You can showcase the benefits of your products and make them attractive to your customers.
When you are a personal seller, you don't have many options to choose from. When you have your own store, you can highlight the benefits of your products while maintaining an honest relationship with your customers.
Increase the visibility and traffic of your products
When you have a separate store for your items, you can attract more attention. A unique and prominent seller has more opportunities to sell items than an average seller. Those who do not have an Amazon branded store are considered to have less traffic.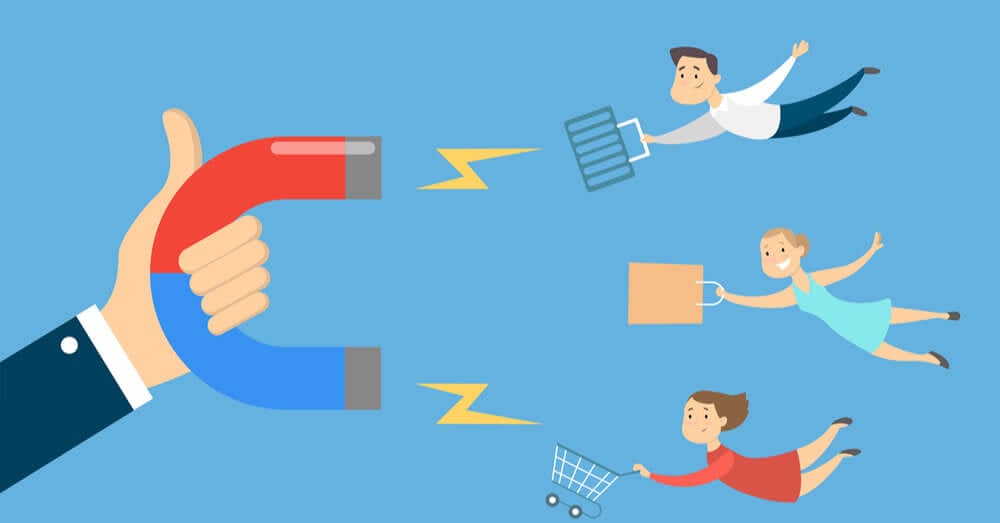 How to create an Amazon Brand Store?
There are several steps to take when creating your own Amazon brand store. If done properly, they shouldn't be too much of a hassle. These steps include.
Step 1: Create a Pro Seller Account
The first step is to create a Pro seller account. This step is not difficult. Amazon is a user-friendly platform.
Everything is clear and up front. When you need to create a Pro Seller account, go to Amazon and scroll down. You will find "Become an Amazon seller".
Under this heading there will be an orange button. This is the "Sign Up" button. Press this button and you will be taken to the seller profile creation process.
Step 2: Register with the Amazon Brand Registry
This is the next step in creating your own Amazon branded store. If you want to register, you have to go to Amazon. The program page is easy to find. However, you need to meet some requirements. You should take care to see if you are eligible for this program.
Step 3: Create your store homepage with an appropriate template
It is important to create a unique store homepage. You must be recognizable and have an identity. This can be achieved to some extent with a nice homepage. You can choose between several templates and layouts to make a distinctive look for your store.
Step 4: Build your store page
After that, you have to create your store pages. These will include the products you sell. It is also beneficial to create separate pages for different categories. This helps to organize your online store. You can create your store pages in any way you like.
Step 5: Add content tags for each page
After you have created your pages, you have to enter the tiles. The tiles show the products on your page. These tiles must be entered so that you can display your items.
Step 6: Upload your products
This step is where you upload the details about your product. This involves the specifications and images of your product. You can choose what the mode of display is.
Step 7: Submit the store page you created for review and then, publish
After you have prepared your page and uploaded your products, this is the final step. You must submit your store page for Amazon's approval. After this, you are ready to go.
In-depth details of all these steps can be obtained from Amazon itself or from other sources.
How to design your Amazon Brand Store?
Templates you can use
The first thing you should know about is templates. Templates are important when you are designing your own Amazon brand store.
Using the right template can make your content look appropriate. You should use the right template that fits your business.
For different products, use different templates. We will discuss a few templates that you can use.
Marquee
Marquee is a simple template. If used properly, it can be an effective way to showcase your products. It involves a simple layout where your products are displayed next to some content.
This content usually contains text about your product, i.e. details. Images and text of your products can be displayed side by side for the convenience of your customers. marquee is similar to the style used by most online stores.
Storefront
This template is more image based. This means that the images of the products take up more space than the text. Text is just barely used.
This emphasizes the visual appeal of the product. This is also a great template to use when you create your Amazon branded store.
Product Grid
This is a simple format that you can use. In this format, products are simply displayed with a brief description.
There is no special emphasis on specific parts of the product. However, customers can prefer this template because it is easy and simple to see.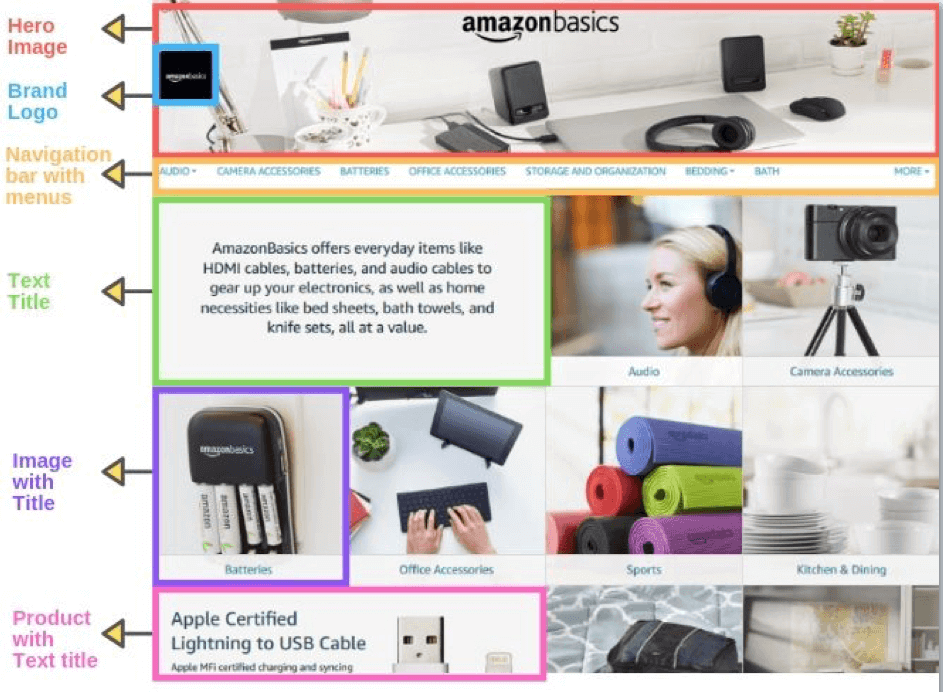 General layouts and looks you can design
Here are some layout elements and things that you can add to your website. These things make the site look more professional and user friendly.
Header Image
The header image appears at the top of your website. You can display your product images on the header to show your customers your products. You can also put your company logo on the header. You can decide this yourself.
Text or text-based tiles
Text is an important part of your website. You can't do it with just graphics. Text shows the details of the product.
Text also explains your business and other things, etc. Text can be written in two ways. It can be free written or written on tiles.
Image or image-based tiles
Similar to text, images are important for business. Images of your products can give customers an idea of what you have to offer.
Images can appear randomly on your website. Or they can be displayed as tiles. Tiles can be used to display both images and text.
Product + Text Tiles
This is where the tiles on your website contain text and images. The text takes up a certain amount of space on the tile. The image takes up the rest. These elements should be balanced to showcase your product in the best possible way.
Best Brand Stores on Amazon
Here are some examples of some of the best Amazon Brand Stores there are.
Apple is quite a popular name. Apple is an electronics manufacturer, most well-known for its line of smartphones.
Apple is one of the top brand stores on Amazon. Aspiring businessmen can learn from its layout to improve their own sites.

Bear Paw Products
Bear Paw Products is also one of the more notable stores on Amazon. Bear Paw Products focuses on BBQ products that are necessary for kitchen use and for use in Barbeques.
Bear Paw Products is not a very large company. However, their efforts on Amazon are commendable as they rank in the top stores.
Coleman
Coleman is ranked in the top Amazon stores as well. Coleman provides camping and outdoor gear and is quite popular. It is one of the more well-known companies that rule the roost on Amazon as well as real life.
Nespresso also exhibits a nice use of tiles to showcase their products. They have a professional-looking page with elaborate pictures of their machines. They are one of Amazon's top brand stores.

Scotts
Scotts is unequivocally an amazing example of what an efficient store page should look like. Scotts sells lawn-related products like seeds and fertilizer etcetera.
They display their products in a very amazing manner. Each product has a clear title and an image fits in the back. Customers can clearly see each product and read the details. The Scotts store page is an example of simplicity used perfectly.
8 Trending Private Label Products Idea Help You Build Your own Amazon Brand
If you are wondering what products you can sell to start your own business, here are some ideas.
Water bottles are an everyday necessity. People need to carry water for all sorts of occasions. Thus, water bottles are a good product to choose for your own business.
Your efforts and marketing strategy is very important. Good sellers can please and attract customers with the simplest products.

Outdoor products
Outdoor products for fitness activities is also a good idea for products. There are a plethora of options you can choose from.
Phone accessories
Phone accessories are also a good idea for your business. Apart from buying phones, people also prefer to buy headsets, protective covers etcetera. You can start selling the necessities related to mobile phones as your own business.
Reusable Bags
Reusable bags can also be a good way for you to go. Reusable bags can be used to carry goods. The good thing about reusable bags is that they can be used over and over again. This makes them a worth-while purchase.
Smart backpacks are like normal backpacks other than some tech addition. Usually, they can charge your devices or have specific compartments for your tech goods. They are also useful for outdoor trips or other occasions.

Workout accessories
Workout accessories include items one can use to carry out their workouts at home. Mats, exercise items etcetera are some examples.
LED lights
LED lights are also quite a popular item you can sell. LED lights are used as a necessity in the form of LED bulbs. You can deal with these necessary products and make your own brand.
Rain Ponchos
Rain ponchos are also very useful as well as a famous product. People need to keep themselves from getting wet when it rains and umbrellas can be a bit of a hassle. You can just put on a rain poncho and save yourself from getting wet.
FAQs about Amazon Brand Stores
Here are some frequently asked questions.
1. Who can create an Amazon Brand Store?
Sellers who have a Pro Seller account can create an Amazon Brand Store. If they want to open their own store on Amazon, they need to register with the Amazon Brand Registry and meet certain criteria.
2. How can I get the most out of my Amazon store?
You can get the most out of your Amazon store by customizing it in an attractive way.
You should use the right way to present your products so that customers can easily see everything. You should present your products properly with the right words for ease and efficiency.
3. Is it free to create an Amazon Brand Store?
Yes, it is free. Creating an Amazon Brand Store is free for brand owners. If you meet certain criteria, you can create your own store. There is no additional cost. 4.
4. How long does it take to create an Amazon Brand Store?
There are several steps involved in the process. The time required may depend on various factors. It involves what you want to sell, how you want to present it, and similar aspects.
You create the pages for your site yourself. If you want to create many pages and edit them, this will take a long time. If your business is small and you offer a small range of products, then you will spend less time.
5. How can I measure the performance of my Amazon brand store?
While there are many ways to see how a branded store is performing, you can see its performance through store insights.
Store insights show how the store is performing. There are a variety of analytics that you can see and decide how to improve.
Final thoughts on Amazon Brand Stores
Amazon Brand Store is a good service provided by Amazon. It helps companies big and small to showcase their products effectively and easily.
They can apply their own innovative methods to showcase their products. They can create pages to showcase categories and different products.
If used properly, this service is useful and effective. Serious sellers can take advantage of this to make their presence known online.
There are many different ways to customize your store. There are various existing stores that can help you realize which aspects must be shaped.
This is some basic information about Amazon branded stores. Amazon Brand Stores are a good service and they can be very helpful to businesses.
If used properly, the Amazon Brand Store can take a business from one level to another. Providing a separate platform for your products can mean a lot to a company.
By displaying everything easily and freely, a company can please its customers and show them what they want to see.
After reading this post, I hope you can get a lot of useful information for your business, if you have any questions, please contact us or leave comments below.
https://www.ptpillow.com/wp-content/uploads/2021/08/QQ图片20210806174429.png
937
1663
PT Pillow
https://www.ptpillow.com/wp-content/uploads/2020/11/logo-1.png
PT Pillow
2021-08-06 17:35:16
2021-08-06 17:47:30
Amazon Brand Store: The Perfect Guide 2021