If you want to import products internationally, or if you want to sell your products under your own brand, your best bet is to try a China factory.
1. Why should you find a factory in China?
2.How to find a factory in China?
3. How to choose the best Chinese factory?
4. 5 Tips for Finding Quality Factory in China
5. Final Thoughts about China Factory
China is known as the manufacturing capital of the world, and it is for a good reason.
Chinese manufacturers are capable of producing almost any product in the world, and they can do it quite cheaply.
If you are already importing products from elsewhere and selling them under your own label, there is a pretty good chance that these products are made in China.
There is a huge sourcing industry in China. Products that are made in China are being sold and traded around the world. If you look at the statistics for 2015, China exported $500 billion worth of goods to the United States.
The question here is, if you own a business, how can you find quality manufacturers in China?
As companies strive to reduce costs and improve margins, they are shifting more of their production and manufacturing operations to China.
If you want your business to be successful, it is important that you take enough time to find the right suppliers that meet your quality standards.
This may seem like a very simple process, but it is much more complex. When you are out looking for suppliers, then you will find hundreds of factories that can produce your product and they will do everything they can to capture your business. With so many choices, it becomes quite a difficult task.
Why should you find a China Factory?
Find a Chinese factory that will not only meet your production needs, but you will also get excellent product quality.
If you search the Internet, you will find nightmare stories about China scams, late deliveries, incorrect products, etc.
However, if you do everything right, then finding a factory in China may be the best thing for you. Here are some reasons why you should look for a supplier or factory in China
1. Low-Cost Production
One of the biggest advantages of looking for a factory in China is that you can reduce your production costs to a great extent.
Although in some cases you may have to pay customs transportation and duties, the price of the product is still very competitive compared to the market.
There is no limit to the number of products you can import from China. This means that your profit margin will gradually rise and you will have more money to spend on other parts of your business.
If you talk to someone who is already producing in China, he will tell you that production costs are much lower and lower costs always lead to better sales.
2. Great Choice Manufacturers
No matter what industry you are looking for a manufacturer in, you will always find a great selection of manufacturers in China.
It is well known that the Chinese manufacture everything from clothing to tools, weapons, equipment, cars and more on a global scale.
When you are looking for a manufacturer in a certain industry, you will find a lot of options.
Since different manufacturers are making the same products, you will get very competitive prices from all of them.
When you want to choose a manufacturer, you can check the manufacturer reviews online.
You can also talk to people who have gotten goods from a particular supplier. In this way, you will find the best manufacturer that provides value to your customers.
3. Complete Infrastructure
Over time, we have seen some advances in manufacturing technology. If we talk about China, then China is the fastest growing economy with some of the best technology in the world.
With so many manufacturing benefits in China, you also get the advantage of a strong infrastructure and better managed factories.
Better, more advanced machinery lowers overall costs and improves production processes and supply chains.
Everything is well managed and the factories in China have developed a great infrastructure to meet supply and demand.
No matter how big your order is, you will always get your product produced on time. This is why China is known as the manufacturing giant of the world.
4. Various Industry Clusters
There are various industrial clusters developing in different parts of China. This is done to improve the supply chain, find the right talent and recruit the right type of workers in order to meet the manufacturing needs of our global customers.
How to find a China Factory?
There are various methods of finding a factory in China. A few of them are given below.
1. Find Good Factory by souring agency
One of the best ways to find a Chinese factory is with the help of a sourcing agency. If you are looking for a trusted and reliable sourcing agency, then you can try Leeline Sourcing. If you own a small or medium-sized business, then it is the perfect choice to get in touch with Leeline sourcing.
They can connect you with plenty of manufacturers, regardless of the industry. The best thing is that Leelinse sourcing is a well-reputed company, and it has the best quality suppliers that can fulfill your needs.
All you have to do is to get in touch with an agent and tell him your requirements. The agents will do the hard work for you and will make you contact a number of suppliers and manufacturers from your relevant industry.
2. Find Good Factory with Alibaba
Alibaba.com is one of the largest suppliers directories in the world. There are around 279 million active buyers and 8.4 million active sellers on this platform. It is majorly a B2B platform.
It doesn't matter whatever your product is or whatever industry you are looking for, there is a 100% surety that you will find a seller here.
You should keep in mind that most sellers on Alibaba have a minimum quantity limits. It means that you are going to purchase from a seller, then you will have to buy in bulk.
Although it is a good thing as you get many products at cheap rates, if you are a beginner and just starting up, it can be difficult for you to financially afford it at the start.
You can easily find suppliers and manufacturers simply by searching some words in the search bar like "private label" or "manufacturer." You can also become a verified buyer on Alibaba.
It will allow you to get access to the more detailed directory of Alibaba. You can search for experienced suppliers and manufacturers, see their recorders, and some of their main customers. So it is always recommended to become a verified supplier to enjoy seamless benefits.
3. Find Good Factory in Trade shows
Trade shows or trade fairs are a great way to find good Chinese suppliers and manufacturers. They are actually exhibitions where manufacturers and suppliers showcase their products and services. It is done to attract new customers to a business.
One of the biggest advantages of tradeshows is that you can meet with the manufacturers face to face. It means that you will have more confidence and peace of mind.
You can directly ask questions from the manufacturers at trade shows while looking at them in their eyes.
Trade Shows in China
China is one of the largest manufacturers in the world. Most online sellers turn to China for their manufacturing needs.
If you visit China to physically meet the manufacturers, you cannot miss the Chinese trade shows. Some of the biggest trade shows are The Canton Fair in Guangzhou, The Yiwu Commodities Fair in Zhejiang, and the East China Import and Export Commodity Fair in Shanghai.
4. Find Good Factory with Social Networks
You can use social networks like LinkedIn and Facebook groups to find Chinese manufacturers. Most Chinese manufacturers have realized that they have to socialize themselves if they want to attract more customers. So you can make a search on these two social networks by tying "Industry + Manufacturer."
You can look for the Chinese manufacturers in the google search engine. It is important to type the right keywords when you are doing a search. Some examples of keywords are
Industry+Manufacturer+China
Industry+Factory+China
Industry+Wholesale+Manufacturer+China
Google is the most powerful search engine. But when it comes to finding Chinese manufacturers, you won't find many results. It is because the Chinese are not very good at speaking English.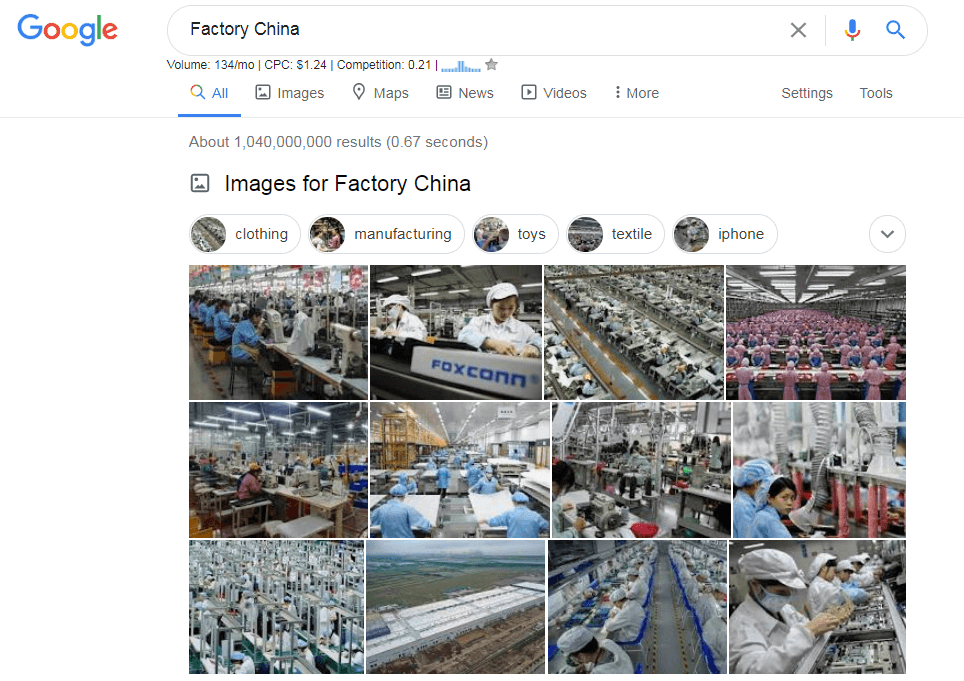 How to choose the best Chinese factory?
1. Search for factories with similar products
When you are looking for a factory in China, then make sure that the factory is already producing goods and products that are very similar to your product.
Assuming you are selling food products, will the factory be able to meet your needs? If yes, then do they have a proven chemist to check the quality of the product.
2. Filter the best factories from the factories
When you search for factories in China, you will find a lot of factories and manufacturers. You can check the reviews of all the manufacturers online.
There are different websites where you can check the reviews. After checking the reviews, you can filter out the best factories that have the best reviews. By doing this, it will be much easier to choose the right factory.
3. Get free quotes
Most Chinese factories and manufacturers offer free quotes to their customers. If you are a seller and not sure about the market price, you can get free quotes from different factories and then compare their prices to see which factory offers you the cheapest product. By doing this, you can save a lot of money with just a little effort.
4. Place an order
If you are not sure what quality you will get from a manufacturer or factory, you can place a small order. This will allow you to test products from a particular manufacturer.
You can also place small orders from multiple manufacturers and then compare the quality of the products from multiple manufacturers. By doing this, you will be able to select the best Chinese manufacturer that offers the highest quality products.
5. Keep a record
When dealing with Chinese manufacturers, be sure to keep records of your conversations and all transactions between the seller and the manufacturer. This will enable you to prevent many problems from arising in the future.
6. Get free samples
Most Chinese factories and manufacturers are willing to send you free samples of their products to test the quality and durability of their products.
You can benefit from this convenience by requesting free samples of the same product from multiple factories and then you can compare which one has the best quality.
7. Keep in touch with the manufacturer
If you find a manufacturer that can meet your needs and fit your budget, make sure that you maintain a long-term relationship with that manufacturer.
This will allow you to maintain the same quality standards for your customers. If you keep changing manufacturers, over and over again, this will negatively impact your customers because the quality of your products will be constantly changing.
8. Minimum Order Quantity (MOQ)
Most Chinese manufacturers have a minimum order quantity (MOQ) limit. Assume the MOQ is 50. then you can only place an order if you purchase at least 50 pieces.
You cannot purchase less than 50 pieces. It allows you to buy a large number of products at a fairly low price, but it may be difficult for some sellers to meet the MOQ criteria in the beginning.
9. Ensure a secure payment method
Make sure you choose a secure payment method to pay the Chinese manufacturer. There are many scams in the market.
Therefore, your payment method should be secure and traceable so that if something goes wrong, you can easily track where your payment was processed and where the account is currently operating.
10. Deliver the required products
Finally, make sure that the manufacturer delivers the desired product you ordered.
If you search on the Internet, you will find many people complaining about Chinese manufacturers delivering the wrong products. Therefore, make sure that you choose a reliable manufacturer who always delivers the product you want.
5 Tips for Finding Quality Factory in China
If you are looking for a quality factory in China, then you can follow the below tips:
1. Don't choose based on price alone
When you are looking for a China factory, then most people will choose the lowest price. The only thing they care about is the price of the product and not other factors.
When looking for a China factory, it is important to pay attention to other factors such as MOQ, delivery time, manufacturer's reputation, quality of the product, etc. If you choose based on price only, it is a big mistake.
2. Avoid lengthy emails
When you write emails to Chinese manufacturers online, make sure to avoid long emails. Your emails should have precise information and ask only relevant questions. This can increase your chances of getting a response.
3. Ask if they have any US customers
You can ask the manufacturer if they have any U.S. clients. If the answer is yes, it means that the manufacturer is providing high quality products and sourcing them worldwide. If the U.S. customer is buying from the manufacturer, then he is doing a really good job.
4. Become an expert on your product
Try to become an expert on your product. This means that you should have all the knowledge about your product.
You should know how it is produced and how to assess its quality. This will enable you to communicate better with the manufacturer and get the desired quality.
5. Visit the factory in person
You may have already found the manufacturer online, but be sure to visit the factory at least once in person. This will allow for face-to-face interaction with the manufacturer, by looking them in the eye and asking questions directly. By doing this, you can avoid many misunderstandings and miscommunications.
Final Thoughts about China Factory
There is no doubt that China is the leading giant in manufacturing. You can get almost anything made in China. One of the best things about Chinese manufacturing is that the cost of production is extremely low.
If you compare products made in China with products from other countries, you will see a huge difference in price. Although Chinese products are very low cost, they offer the same quality as other countries.
If you are starting a small or medium sized business and looking for a supplier or manufacturer to supply your products, you can buy directly from a Chinese factory. By using the different methods mentioned above, you can easily find a Chinese factory.
I hope you can benefit a lot from my guide. I will keep it updated. I am a leading manufacturer of memory foam products in China. If you have any questions about import from China, please feel free to contact us, we are always here.
https://www.ptpillow.com/wp-content/uploads/2021/08/china-factory.jpg
936
1663
PT Pillow
https://www.ptpillow.com/wp-content/uploads/2020/11/logo-1.png
PT Pillow
2021-08-03 17:23:08
2021-08-04 13:40:03
China Factory: The Comprehensive Guide 2021