Finding a OEM or ODM supplier will help promote your business.
OEM Service and ODM Service are two programs that you must have heard of, but you may be confused about them both. There is not a complete post on Google to explain them or to help you understand them through many typical examples. In fact, OEM service and ODM service are two important and common modes of cooperation in industrial societies, especially in international trade.
In my post today, besides explaining the definition of OEM and ODM, I will tell you the role they play in our real life and help you understand them better by giving many real life examples. This post will explain your concerns in the following 3 main aspects.
What is OEM service and ODM service meaning? (Examples included).
Where to find the OEM & ODM supplier? How to identify a good one?
OEM or ODM in China? What's their process?
1. What is OEM and ODM meaning?
OEM meaning and examples of OEM
An OEM is an original equipment manufacturing, so OEM Supplier is an original equipment manufacturer. in my words, a brand owner who uses core technology for design and development and controls the distribution channel. They will work with other companies to help them with production. The factory just focuses on production and is not involved in design.
For example, Nintendo, a famous Japanese company specializing in computer games, did its own software design and development. They just provide Foxconn with firmware and equipment, and assist Foxconn in analyzing statistics and testing products. Foxconn, on the other hand, only completed the production without any access to the source code.
In addition, many processes were led by Nintendo, such as choosing the type of CPU, DDR or other components and negotiating prices. Foxconn simply implements Nintendo's decisions accordingly.
Thus, the OEM model is typically characterized by brand companies owning the design and R&D capabilities, and they simply work with factories located in human resource-intensive areas to help them with production. Foxconn and Nintendo's partnership model is a typical OEM model.
You may think that this kind of example about a famous brand company is not common for small businesses. Let's take another example. Last year, we received an order from an OEM in the Middle East who wanted to customize a new design pillow. But the design would be provided by themselves.
(For the privacy of client, the actual design couldn't be shown, and the above image is just from Google.)
They prepared the design of pillow in advance and specified the specific parameters of the product, such as length, width, diameter, material selection, logo engraving, etc.
They don't have to know the manufacturing process, All they wanted us to help them with was to find a reliable contract manufacturer with competitive prices, help them follow up on production, arrange shipping, etc. Just like Nintendo, the customer is responsible for the product design while we help them follow up with the factory for production and shipping.
ODM meaning and examples of ODM
ODM refers to Original Design Manufacturers. In this model, the brand company does not need to design and develop. The factory will complete the entire process from design to maintenance and provide several existing product styles for the brand company to choose from.
This process is similar to booking a cake. When you want to book a cake, the staff will usually provide several styles for you to choose from, and then you will select a style and want to make some changes, such as materials.
Just like the example above, small businesses that choose ODM usually lack R&D capabilities. They usually buy from existing products in China and make some small changes to the accessories or other aspects of the product and then print their own logo before selling. Especially for some common small items, all you need to do is to tell the factory what you need and that's it.
For example, one of our Amazon customers intended to buy a memory foam travel pillow from China, but he found the existing pillow jacket unsatisfactory. So he wanted the factory to add a new jacket fabric, as shown in the picture below.
Then again, there are many e-commerce courses that tell you a strategy for making money through online sales: to be competitive, you should sell products with your private label. Such private label products are also known as ODM products.
You don't need to make a clear distinction between ODM and private label. The essence of both models is that the seller improves an existing product to suit the needs of the end customer and sells the product under its own brand name. In fact, many of our foreign customers also refer to "ODM" as a "private label".
Why OEM?
Investing in a factory is costly and the risks are uncontrollable. In addition, recruiting and managing tens of thousands of workers can be unsettling. Many companies will adhere to the principle that specialized engineering should be assigned to larger companies.
For example, companies like Apple, Nintendo, Microsoft, and IBM that focus on R&D and innovation will let foundries like Foxconn, PEGATRON, Flextronics, and Inventec do the production and assembly.
Why ODM?
There are 2 situations for adopting ODM.
Situation 1
Brand companies have extensive sales channels and market operation capabilities, but they lack R&D capabilities. Then they will look for a factory with strong R&D capability to produce products according to their requirements.
Situation 2
Brand companies have R&D capabilities, but some low-margin, low-end products are not worth the amount of time or manpower they invest in getting it done. Then they usually choose a type of existing product from other companies, make some adjustments, and sell the product under their brand name.
Summary: in international trade, for many ordinary products like beer bottle sleeve, many companies usually make some small changes to existing products. Such a model is called ODM.
2. Where to find the OEM & ODM supplier? How to identify a good one?
As you must know from the explanation of OEM and ODM in the previous section, every kind of business needs OEMs and ODMs to make product ideas a reality or to reduce product costs, whether it is a large or small business. In this section, I will focus on teaching small business operators or startups how to find reliable OEM or ODM supplier and how to identify them.
Where to find them?
There are 3 main channels finding OEM and ODM supplier.
Online B2B websites
Offline trade fairs or wholesale markets
Souring agents
Online B2B websites
For small business operators, searching suppliers online is the most convenient and economical way. There are many factories for you to choose to cooperate with. 3 main B2B websites as follows,
Alibaba
Global Source
Made in China
Most suppliers on these websites will explain whether they provide OEM, ODM, Customizing, Private Label service in the product listing page. If they don't state clearly whether they can provide the service, you can ask suppliers directly if they offer this service.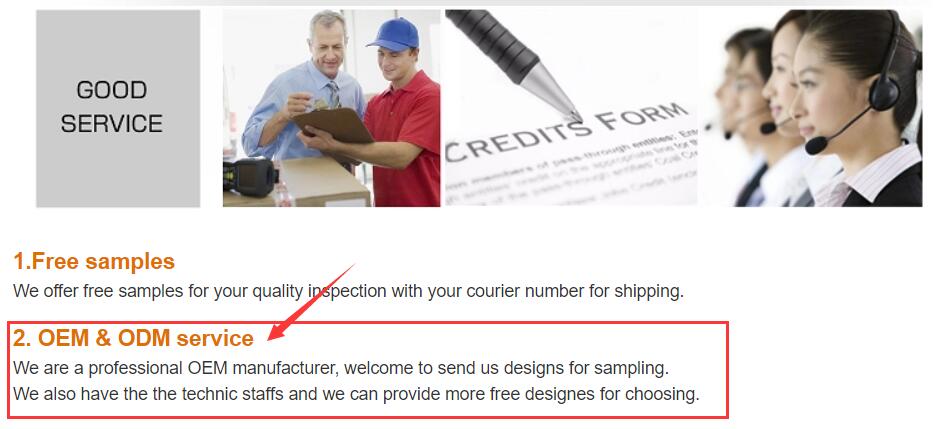 In the meantime, you can try finding suppliers from Google or some social media. Although there are not as many suppliers as wholesale websites, you also can have a try and find good suppliers.
Google
Some social media like LinkedIn or Facebook
Offline trade fairs or wholesale markets
If you think that finding suppliers online is not a reliable way to find suppliers, you can go to your local wholesale market to find suppliers. There are two reasons to choose this way: convenience and efficiency.
If you can come directly to China, you can attend some Chinese fairs or visit wholesale markets. Finding suppliers in China can be more troublesome than finding suppliers in your country.
For example, language barriers, more hotel and transportation costs. In addition, you need to know the main areas of the wholesale markets and fairs, Shenzhen, Guangzhou, or Shanghai. Therefore, you need to set a detailed agenda before visiting China.
However, there are benefits to your visit to China. The most beneficial point is that you can have more OEM or ODM manufacturers to choose from and get products at very competitive prices.
Souring agents
In recent years, sourcing agents are very popular among importers, especially for new importers. A professional sourcing agent has rich resources of OEM or ODM factories. They can help you choose the right manufacturer for your products, negotiate the price, follow up production, control quality, test products, arrange shipping, etc.
How to identify a good supplier?
Whether you are looking for OEM and ODM factories online or offline, keep in mind these 5 key points for choosing a good manufacturer to work with
Good balance of quality and price
Good communication
Good attitude towards problems and solutions
Have full factory credentials
If using new molds, make sure the molds can be taken back
Warm tip: Big factories are not always suitable for you, you have to choose the best one according to your actual situation. Remember to choose the factory that is serious and responsible for your order and communicate with you patiently.
3. OEM or ODM in China? What's their process?
Below are the 7 main steps in the process for OEM and ODM products. Some of the steps will be a little different for different products.
Create a prototype or design of the product
Find a Chinese manufacturer
Estimate the cost of the entire project
Create a pre-production sample
Select private label and packaging options
Start mass production
Deliver the goods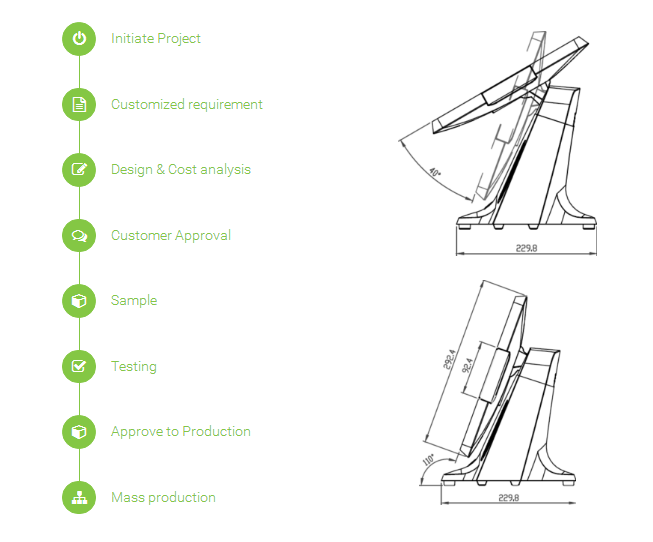 Taking cosmetics as an example, I will tell you its ODM and OEM workflow. But I will mainly explain the ODM process, because the process is similar for both models.
Step 1: The factory will choose a suitable cosmetic formula and make a sample according to your requirements for the product, and then hand it over to you for testing.
Step 2: After the test, if you are satisfied with the cosmetic sample and price, you will be required to visit the factory in person, including R&D capability, production capacity, and workshop.
In addition, since cosmetics will be used directly on the skin, their safety must be guaranteed, so it is very important to work with a reliable and qualified factory. However, if you import some other small goods, such as the beer bottle set mentioned above, you can choose not to make a site visit to the factory.
Step 3: After the site visit, you will sign a contract with the factory. During this period, the factory will charge a certain deposit. (Note: Different factories charge different amounts.)
Step 4: The factory will be responsible for packaging design and purchasing packaging materials, which is usually a free service provided by the factory. Of course, they will design the packaging according to your requirements, and then let the professional packaging factory make some packaging samples for you to choose from.
Step 5: After confirming the cosmetic materials, ingredients and packaging design, the factory will go to the FDA for product testing and filing.
Step 6: After passing the testing and filing, the factory will carry out the product filling, packaging and quality control process. Generally, it takes 15-20 days to complete the whole process. After completing the whole production process, you need to pay the balance.
Step 7: The factory will arrange the shipment, and they will choose the best shipping method according to the delivery time and the volume of goods. Cosmetics are usually shipped by sea.
If you want to know more details about OEM services and ODM services in China, you can check my previous articles. Developing and manufacturing a new product in China.
In Closing
Thanks for reading, if you have any questions about ODM and OEM, let me know by leaving a comment below. Or you can consult us about what you want to know about OEM and ODM products in China.
We are the best pillow manufacturer in China to help importers import from China to usa with the most competitive price, 40% of our clients are Amazon sellers. So if you want to imports from China start the Amazon store, please do not hesitate to contact us.
https://www.ptpillow.com/wp-content/uploads/2021/07/OEM-ODM-Supplier.jpg
751
1335
PT Pillow
https://www.ptpillow.com/wp-content/uploads/2020/11/logo-1.png
PT Pillow
2021-07-21 15:52:53
2021-07-21 16:28:43
OEM & ODM Supplier: The Comprehensive Guide 2021